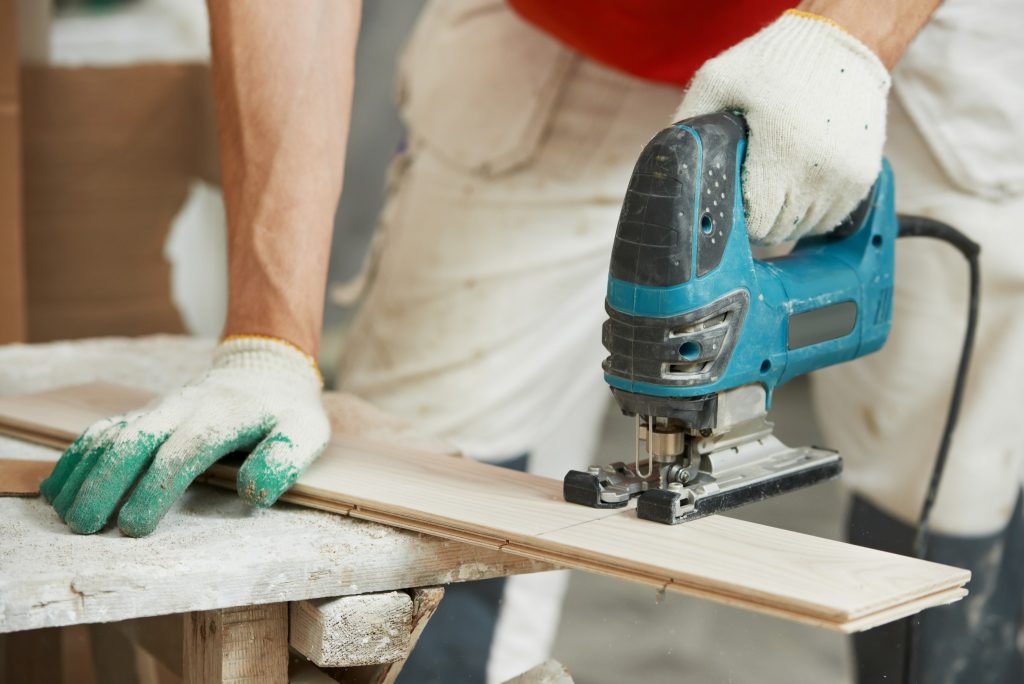 Like many homeowners, you may have eyed a home improvement project in the past only to come up short on time or inspiration.
Don't feel bad. Nearly half (43%) of all homeowners say their biggest challenge around home improvement decisions is finding DIY time, which also may explain why the same percentage of people say they have unfinished home improvement projects — typically two.
Since many of us are spending much or all of our time at home, now might be a good time to channel some of that cabin fever into a project that could add value to your home or infuse it with new energy.
Here's a sampling of projects you can tackle alone — or with a pint-sized assistant in need of a play date.
Beginner projects
New faucets
Attention to detail is key for this project — you don't want to flood your kitchen because you forgot to turn off the water valve — but no previous plumbing skills are required, and a shiny new faucet can generate a lot of day-to-day pleasure for a little effort. These instructions walk you through the steps to install a kitchen faucet (and the process is just the same for a bathroom sink).
Light fixtures and switches
Few things can change the atmosphere of a room as quickly as lighting. Swapping out an old fixture for a new one — or an on-off switch for a dimmer — can provide a mood for any occasion.  Here's an easy guide to change a light fixture. Switches use the same types of wires, so if you can swap a fixture, you can handle a switch.
Fire pit
This is a great one to tackle with kids. Celebrate the finished product with a s'mores party. Plus, the sales price premium on homes with fire pits is 2.8%, according to a Zillow analysis of thousands of home listings and sales prices.* Build you own backyard fire pit in 7 easy steps.
Smart tech upgrade
There are countless smart home products you can choose from, and some require little more than changing a light bulb or plugging in a device. A few to consider:
Smart doorbell/camera: Installing one is similar to changing out a light switch. The process involves removing your old doorbell and connecting the device to your Wi-Fi.
Smart locks: Do you have a family member who is always losing their house key? Replacing a traditional door lock with a keyless entry you access using a touch pad or smartphone app is an easy solution.
Smart home hub: Amazon, Google, Apple, Nest, Samsung and others offer smart home hubs, which allow you to interact with compatible devices through a central system. The hub itself is typically "plug and play" and easy to set up. But you may need to do some initial troubleshooting to get all of your devices connected.
Smart lights: This project is as simple as buying and installing light bulbs. However, the upgrade requires coordination with a smart home system because each one has its own requirements and controls. If you already have a home system, be sure the lights you choose are compatible. If you're thinking of buying a new system, keep in mind that it needs to work harmoniously with the products you already have.
Intermediate projects
Cabinet refresh
Updating your kitchen doesn't have to involve major renovations. You can create a whole new look by changing out the door and drawer pulls, painting your cabinets or removing cabinet doors to create an open-shelving effect. Or, if you have too much wall space and too few cabinets, you can easily install open shelving from scratch. An added bonus: Homes with open shelving sell for 4.2% more than expected. For cabinet tips and other ideas, here are seven ways to upgrade your kitchen without remodeling.
Barn door
Switching out a traditional swinging door or a closet slider for a barn door that glides on a rail can give your room a striking look, as well as open up space and change the furniture arranging possibilities. And your effort might pay off in other ways: Barn doors are associated with a 5% price premium. You'll need a few tools, another pair of hands, and these step-by-step instructions which cover all the details of how to build and install your own sliding barn door.
Advanced projects
Board & batten
You may not be familiar with the term, but you've probably seen this classic design feature in a number of homes. Precision is required for this one, and that means you need the right tools, namely a measuring tape, a level and a miter saw. Also patience. But if you can imagine a 3D element atop your drywall, you're ready to go, and this guide will walk you through each step of the process.
Garden shed
If you have the know-how to build a garden shed, you can find any number of plans and tutorials online to suit your taste. And if you're not quite up for that challenge, you can still improve the one you've got or buy a garden-variety one and make it your own. Start by imagining whether you need it for storage or extra work or living space, and go from there. Homes with a "she shed" are associated with a 3.6% price premium. Here's some inspiration to create your own custom garden workspace.
Heated floors
This is the kind of project you can tackle if you missed out on your real vocation and ended up in a desk job. Labor-intensive and requiring the confidence of an accomplished tradesperson (and some math skills), your success in warming your dwelling from the bottom up will make you a hero or heroine in your own home. This project is ideal if you already planned to replace the flooring in a room and have the opportunity to add a heating element in the process. Learn about the different types of radiant flooring and tips for DIY success. Homes with this feature sell for 4.9% more than expected.
Whatever you decide to do, measure twice and have fun!
*Home sale data is based on a Zillow analysis of listing language and the sales performance of thousands of homes nationwide in 2018 and 2019. Adding these design features to a home does not guarantee or definitively cause the ultimate sale price to increase as much as observed.
Source: www.zillow.com