Maine home prices make biggest jump so far this year
https://www.mainebiz.biz/article/maine-home-prices-make-biggest-jump-so-far-this-year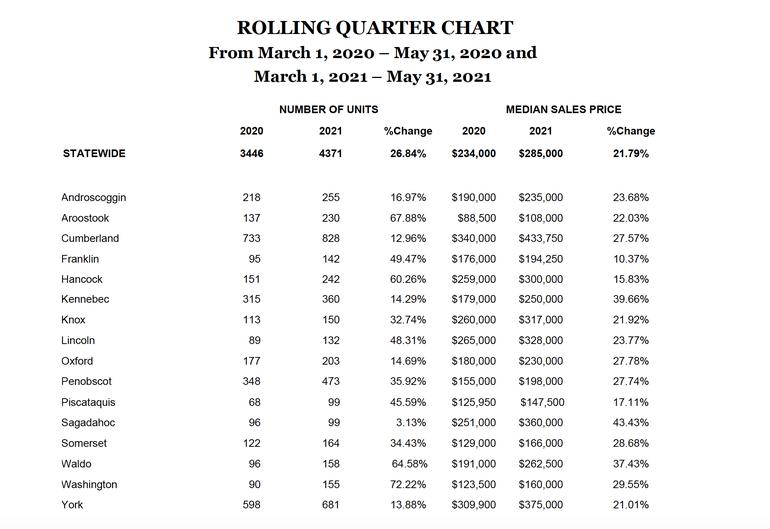 Prices for single-family homes in Maine jumped 28.21% during May, compared to a year ago, and the number of sales was up by roughly the same percentage.
The price increase was the biggest climb so far in 2021, which has already seen double-digit increases.
The statewide median sales price for May 2021 was $305,000, according to the Maine Association of Realtors. That price compares with $255,300 in January, $244,900 in February, $268,500 in March, and $276,000 in April.
The median sales price indicates that half of the homes were sold for more and half sold for less.
Sales volume also continues to soar. Statistics show 1,613 homes changed hands across the state in May — a 28.32% increase over May 2020.
"May 2020 was the low point for Maine's residential real estate market due to the COVID shutdown," Aaron Bolster, broker/owner of Allied Realty in Skowhegan and 2021 president of the Maine Association of Realtors, said in a news release.
"Since then, the numbers have rebounded and continue to show strength. These reported numbers reflect a comparison to the May 2020 COVID shutdown statistics. May 2021 sales volume was comparable to pre-pandemic sales volume levels, about one percent above the May 2019 figures."
Buyer demand remains strong.
"We continue to see swift market conditions with most transactions navigating multiple offers," added Bolster. "Statewide, the days on market for May 2021 was six days, compared to 17 days a year ago, and 20 days in 2019. The month of May brought additional for-sales homes onto the market, with active single-family listings up 21 percent at month's end. Additional for-sale supply will help meet this pent-up demand."
County results
For the rolling quarter from March 1 through May 31, Washington and Aroostook counties saw the steepest increases in sales volume at 72.2% and 67.8% respectively. Waldo County was up 64.5% , followed by Hancock County at 60.2%.
The smallest change, at 3%, was in Sagadahoc County.
National, regional data
According to the National Association of Realtors, single-family existing home sales across the country rose 39.2% in May 2021 compared to May 2020. The national median sales price of $356,600 represents a 24.4% increase from May of 2020.
Regionally, sales across the Northeast increased 46.9% and the regional median sales price increased 17.1% to $384,300, compared to May 2020.
Portland sales
May also saw another big jump in Portland's single-family prices.
After a drop from $452,000 in March to $404,500 in April, the median sales price for Portland single-family homes increased to $479,250 in May, according to Benchmark Real Estate using data from Maine Listings.
In comparison, for all of 2020 the median sales price was $362,500.
The number of single-family listings stayed steady over the past few months, but the number of sales almost doubled from 32 in April to 58 in May.
In contrast, after several record-setting months, the median price and sales numbers for condos and multi-family buildings slightly declined.
"I think what we're seeing is listings starting to better match demand," said Benchmark Real Estate owner Tom Landry. "It's too early to call anything a trend, but now into June, there does seem to be a slight increase in supply."
Landry said high sales prices have motivated more property owners to list, increasing supply. Some buyers are putting their home search on hold after losing out on home after home, he added.
Source: Mainebiz.com