The home-buying trends of Maine's record and wacky 2020 real estate year — pandemic flight, waterfront popularity and luxury home purchases — are reflected in this year's "Maine's Hottest Towns" top 10 rankings.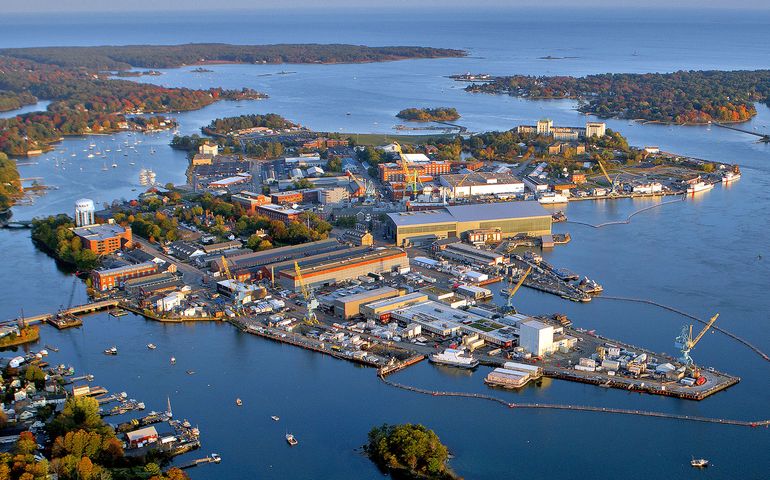 The list, in its sixth year and compiled by Maine Life Real Estate in Scarborough, measures which towns and cities had the biggest increase in single-family home sales over the previous year.
Last year set a record for single-family home sales and median price in Maine, 33% of it from out-of-state sales, with 81% growth in the luxury market (houses over $1 million), and 25% growth in luxury property, Dava Davin, of Portside Real Estate, told the MEREDA Forecast Conference last month.
Cumberland and York counties, Maine's two most populated, accounted for 40% of 2020 sales.
Six of this year's top 10 hot towns are in those two counties, nine of them are on the coast or a major river, and five of them have median sales prices well above the record 2020 state median of $270,000. Only one of 2019's hottest towns, Kittery, is on the 2020 list.
Out-of-state trend started before pandemic
The trend of out-of-staters choosing Maine was already on the rise before the pandemic.
Rob Edgerley, hottest towns guru and founder and CEO of Maine Life Real Estate, two years ago said that he's seen at his brokerage that when people get to a point where they can choose where they want to live, those with a seasonal connection to Maine choose Maine. He two years ago predicted Old Orchard Beach, ninth on this year's list, would grow as a destination for out-of-staters buying Maine homes.
"One thing I hear a lot is, 'I always come up here to Maine in the summertime,'" he said after the 2018 list came out. The largest group his firm deals with is from Massachusetts, people in their late 50s or 60s who are looking for a quality of life place to live.
"I think they've figured it out," he said at the time.
Besides Old Orchard, Wells, another longtime traditional Massachusetts summer refuge, is also on the list, at number 5.
To determine the list, Maine Life gathers data from the multiple listing service, operated by Maine Real Estate Information Services Inc., and calculates which Maine municipalities had the largest increase in home and condo sales, including both existing homes and new construction. The list only looks at municipalities with a volume of 130 units or higher.
Last year's top town, Hampden, and second-ranked town, Augusta, were 43rd and 33rd on this year's list, respectively.
Just missing the top 10 were Eliot, Sanford and York — all in York County — and Winthrop and Winslow, in Kennebec County.
The hottest towns of 2020 are below.
1. Kennebunkport
While it's frequently cited as the most expensive place to live, this is Kennebunkport's first appearance on the hottest town's list. The York County town of 3,600 had a 69.5% jump in the number of homes sold in 2020 over 2019. Some 139 units were sold, compared to 82 in 2019.
The 139 homes sold for a median sale price of $657,000, which is the second-lowest increase in median sale price on the list, a 7% increase from the 2019 median of $630,500. York county, the state's southernmost, had the second-highest volume of sales, after Cumberland County, and the second highest median home price, $337,000, compared to the state's 2020 median of $270,000.
The Kennebunkport median price was helped along by the most expensive spec home ever to sell in Maine, a $5.95 million oceanfront (of course) home sold to an out-of-state buyer by by ReMax/Shoreline, with LInda MacDonald Associates - Legacy Properties, Sotheby's International Realty, of Portland, representing the buyer.
2. Kittery
Maine's oldest and southernmost town was the eighth-hottest town in 2019, the only one in 2020 that was also hot the previous year.
The York County town of 9,800 had a 43% increase in home sales, with a median sale price of $465,000 — up 10.1% from a $422,000 median in 2019. In 2020, 206 units were sold, compared to 144 in 2019. The town, across the Piscataqua River from Portsmouth, N.H., is home to the Portsmouth Naval Shipyard.
3. Falmouth
Falmouth, a Cumberland County town of 1,900 immediately north of Portland, had a 38.9% increase in homes sold in 2020, and a median price of $580,000, up from $525,000 in 2019. There were 271 units sold as opposed to 195 in 2019.
Cumberland County sold 65% of its homes at or above asking price, Davin said at the MEREDA conference. From May to November, average days listed for homes for sale in the county was less than a week.
4. Rockland
Rockland, a Knox County town with a population of 9,200 had a 25.9% increase in home sales in 2020, and took first place for the highest rise in median sale price, rising from $175,000 in 2019 to $212,700 in 2020 – nearly 22%. Some 131 units were sold, as opposed to 104 in 2019.
Rockland has long been synonymous with Maine's iconic sea urchin, lobster, and is also home to two influential downtown museums, the Farnsworth Art Museum and the Maine Museum of Contemporary Art.
5. Wells
Incorporated on July 5, 1653, Wells is the third-oldest town in Maine, and is once again one of the hottest for single home sales. It was seventh on the list in 2017, and in 2020 had a 20.7% increase in the number of homes sold. The median sale price rose from $299,900 to $355,000. In 2020, 478 units were sold; 396 were sold in 2019.
The Abenaki Indians called the area Webhannet, meaning "at the clear stream," a reference to the Webhannet River, which flows into the Atlantic and helps form the Wells National Estaurine Reserve, which lines the town's coastal area. The area is also lined with beaches — Wells, Moody and Drakes Island — which have for generations been the summer home for out-of-staters, particularly from Massachusetts.
6. Brewer
Brewer's debut on the hottest towns list is also an outlier — the only town in the top 10 this year that's not in the southern half of the state. The Penobscot County city of 9,000, across the Penobscot River from Bangor, had a 17.4% increase in home sales between 2019 and 2020. Its median sales price was up 17% from $160,000 in 2019 to $187,500. In 2020, 155 units were sold; 132 were sold in 2019.
Brewer was famous for its brick-making industry throughout the 19th century — most of the Back Bay and South End neighborhoods of Boston were constructed using bricks made in Brewer. Nowadays, it's more of a location for people who work in Bangor, Maine's third-largest city, and likely popular for the same reason Hampden, another Bangor-adjacent town, was as Maine's hottest town of 2019.
7. Auburn
Auburn snuck its way back into Maine's Hottest Towns this year, after grabbing second place in 2018 but dropping off last year. The Androscoggin County city of 23,200 had a 16.6% increase in its home sales in 2020. In 2020 315 units were sold; 270 were sold in 2019. The median sale price jumped 21.2% from $163,725 in 2019, to $198,500.
Across the Androscoggin River from Lewiston, Maine's second-biggest city, Auburn is also an easy-on to the Maine Turnpike and 30 miles from Portland. The city has 38,000 acres of land, 55% of which is undeveloped and has undertaken a robust marketing campaign to lure businesses, developers and new residents.
8. Gray
Gray, a Cumberland County town of 7,700 on the Maine Turnpike halfway between Portland and Lewiston, debuted in the top 10 this year with a 16.3% in homes sold. In 2020, 142 units were sold; 122 were sold in 2019. Median sale price was $319,000 — up nearly 15% from a $278,450 in 2019.
Fun fact about Gray: during the Civil War, the town proportionately sent more soldiers to conflict than any other town in Maine. The town is also on Little Sebago Lake, with proximity not only to the state's two largest cities, but its popular Sebago Lake Region.
9. Old Orchard Beach
The York County town of 8,900, best known for its summer honky-tonk vibe, had a home sale increase of 15.3%, with 285 units sold as opposed to 247 in 2019. Sales price rose 5.2%, to $300,000 from $284,950.
Old Orchard, in between the Biddeford-Saco area and the Portland-South Portland-Scarborough area, has been a popular tourist destination since the late 1800s, not only for U.S. residents, but also is know for being a destination for Quebecois.
10. Lisbon
Lisbon is also new to the list. The Androscoggin County town of 9,000 is east of Lewiston and west of the Bath-Brunswick area, and had an increase of 13.9% in homes sold. The town just edged the minimum number of units sold to make the list, with 131. In 2019, the number was 115. Median sale price rose 17.9%, from $181,000 to $213,500.
The town is on the Androscoggin River and in December 2019 hired a new economic development director as part of a push to reinvigorate the former mill town.
For a more in-depth analysis of this year's hottest towns list, be sure to check the Feb. 18 Real Estate Insider, which will include discussion with Edgerely on the 2020 results and what he expects for 2021.